Sports science based amino acid supply – "aminoVITAL®"
"aminoVITAL®" is formulated with well-balanced amino acids including BCAAs, which are important to smoothly perform in sports. You want to be stay active more comfortably for longer periods and "aminoVITAL®" supports your body and helps it to stay energetic for longer.
Charge of Amino acids and Water

Frequent charge of amino acids and water is very important during sporting/physical activities.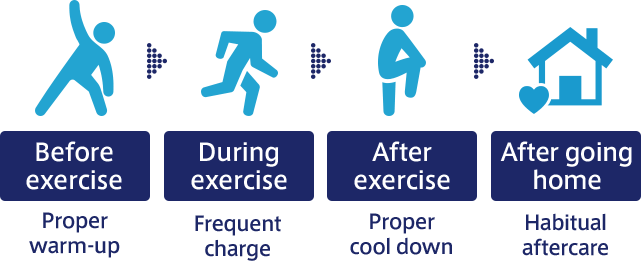 Carbohydrates and lipids are the primary energy sources for daily activities. However, During extensive physical activities like sports, carbohydrates and lipids stored in the body are unable to sufficiently compensate the energy needs. The amino acids broken down from proteins in muscles are therefore utilized as fuels. In addition, sweating, which helps to control the body temperature, leads to water evaporation from the skin surface. Therefore, the frequent charge of both water and amino acids is essential to enjoy any sporting.
Amino acids – The bases of the body

Our bodies are made up of amino acids.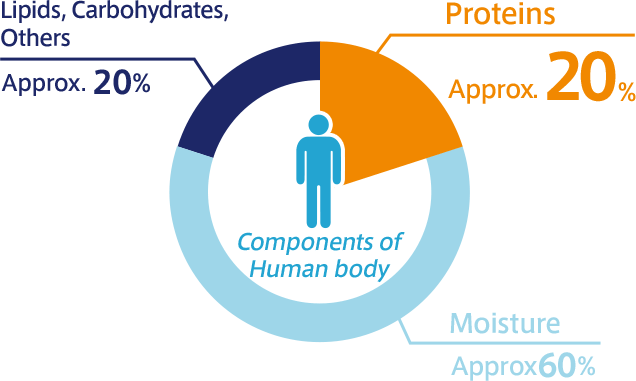 Our body contains ~60% water and 20% of proteins, which is made up of amino acids. Proteins make up skin, hair, muscle, and organs such as digestive tract. They are also the important components of enzymes, hormones and hemoglobin in the blood. All the proteins are made up of 20 different kinds of amino acids, highlighting the importance of these amino acids in making up our bodies.
Amino acids are the basis of sports

By amino acids charge during sports, achieve speedy absorption of them!
Usual case
It takes 3 – 4 hours for proteins to be absorbed.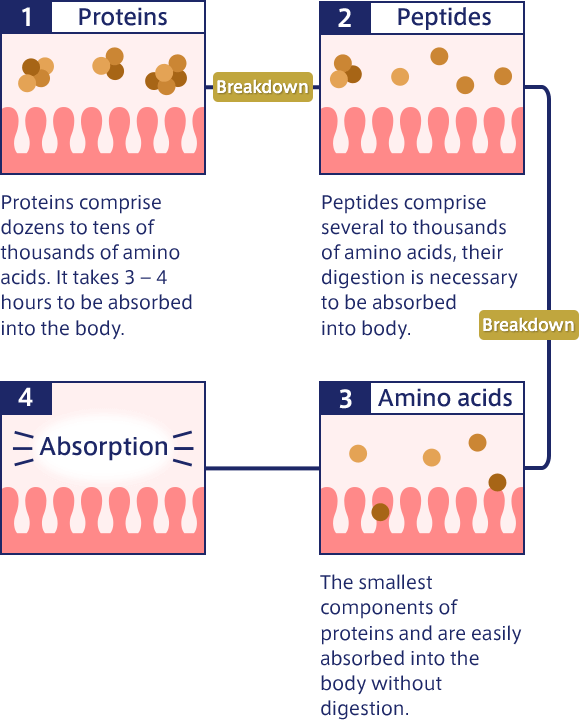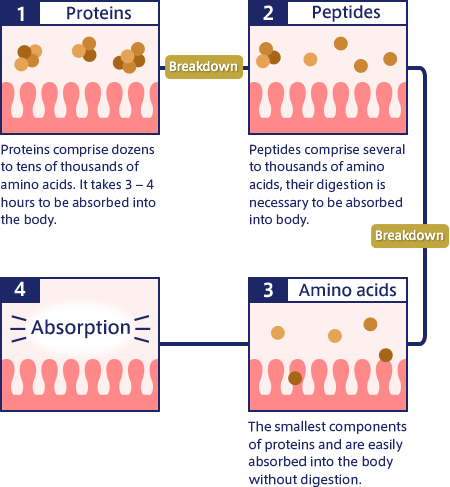 Case of amino acids supplement intake
It is absorbed in 30 minutes with less burden on the body.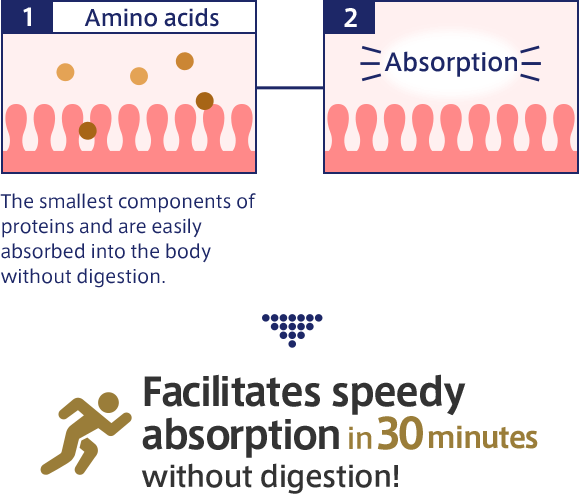 Amino acids during sport

The key to comfortably performing in sports is to charge BCAAs, glutamine and arginine.

Branched-chain amino acids (BCAA)
Valine, Leucine, and Isoleucine
Lysine
Histidine
Threonine
Phenylalanine
Methionine
Tryptophan

Arginine
Asparagine
Aspartic acid
Glutamine
Glutamic acid
Alanine
Proline
Cysteine
Tyrosine
Glycine
Serine
Valine, Leucine and Isoleucine are called branched-chain amino acids (BCAA) of twenty kinds of amino acids that make up human body proteins and are important to maintain favorable body conditions for comfortable sporting. As BCAAs cannot be synthesized by the body, which are parts of essential amino acids, it is essential to charge them in the diet. Glutamine and arginine also play an important role in maintaining the healthy life.
---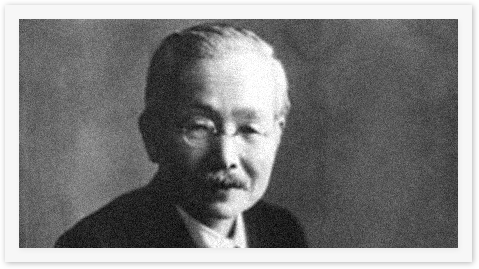 The world of amino acids that Ajinomoto Co., Inc. opened up
In 1908, Dr. Kikunae Ikeda (1864 – 1936) at Tokyo Imperial University (The University of Tokyo now) discovered that the umami component of kelp seaweed was glutamic acid, an amino acid. The following year, he became the first scientist to industrially manufacture the amino acid, which he named Ajinomoto, an umami seasoning. He thus lay the foundation for amino acid research.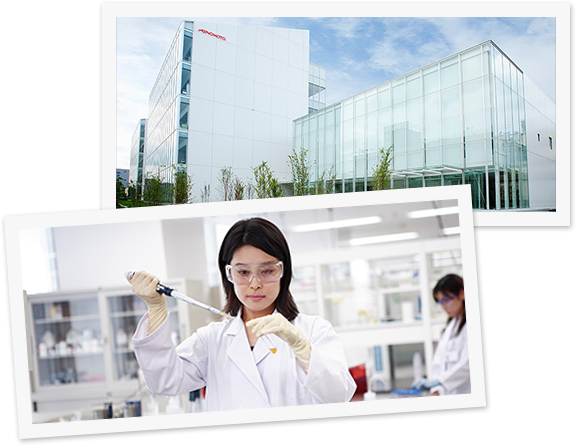 Amino acids that play an active role in medicine
Amino acids are components of proteins that form the human body. Their efficacy in providing nutrients to accelerate recovery from illnesses, as well as their individual physiological actions, drew attention and led to an increased medical demand. Ajinomoto Co., Inc. initially extracted only glutamic acid from wheat and soy proteins by hydrolysis. However, as the company began separating other amino acids and extracting them in crystal forms, its research began to focus on the use of amino acids for medical purposes by drawing on their individual characteristics. In 1956, Ajinomoto Co., Inc. successfully extracted high-purity amino acids in crystals and developed an amino acid transfusion-free from side effects, creating the world's first amino acid-based medical product. Amino acid research continued around the world after this, and amino acids became essential in nutritional therapy designed to accelerate patient's post-surgery recovery, among other purposes. This marked the dawn of amino acid use in clinical nutrition, and today 5,000 tons of amino acid transfusions are used per year worldwide. Ajinomoto Co., Inc. has a 60% share of this global market.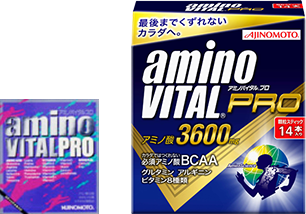 Birth of "aminoVITAL®", an evolving source of amino acids
With a century-long history of amino acid R&D and a half-century history of research in medical amino acids, Ajinomoto Co., Inc. recently applied its long-nurtured development and manufacturing expertise to the area of sports under the concept of "Amino Acid Science for Sports." Of all the amino acids, valine, leucine and isoleucine, known as branched-chain amino acids (BCAAs), have garnered the most attention as the sources of energy for exercise. These amino acids, themselves acting as sources of energy, are important nutrients for athletes to prolong their endurance. In 1995, the company implemented "aminoVITAL® PRO", a supplement for athletes that contained twelve amino acids including BCAAs, vitamins and minerals. It has also developed other products for sports enthusiasts since then. Ajinomoto Co., Inc. supports the joy of sports through "aminoVITAL®". At the Ajinomoto National Training Center, it builds on its research to support training, nutrition, and rest—the important factors for enhancing performance— based on its know-how built through its century-long history of amino acid research.
---