Note: Ajinomoto Co., Inc. was a constituent of following indexes as of August 31, 2022; there is no guarantee that we will be selected for the indexes in the future.
Index operated under a partnership between S&P Dow Jones Indices in the US and Robeco SAM in Switzerland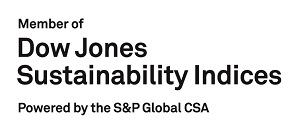 Consecutive inclusion since 2004
Index operated by FTSE Russell, wholly owned by the London Stock Exchange

MSCI Global SRI/ESG Leaders Indexes *
MSCI Global SRI Indexes Consecutive inclusion since 2011
MSCI Global ESG Leaders Indexes Consecutive inclusion since2010
Developed by US company MSCI and companies with high ESG ratings in their respective industries
Renamed from MSCI Global Sustainability indexes in June 2017
Consecutive inclusion since 2017
Comprehensive ESG index designed to measure the performance of Japanese companies that demonstrate strong ESG practices

Comprehensive ESG index constructed by selecting companies with superior ESG ratings among the MSCI Japan IMI Index.https://www.msci.com/msci-japan-esg-select-leaders-index
Constructed based on the Gender Diversity Data developed by MSCI for companies included in the MSCI Japan IMI Top 700 Index. MSCI calculates scores for gender diversity and selects companies with high scores as constituent stocks.
Consecutive inclusion since 2012
Index which comprises companies with outstanding ESG initiatives based on the ESG evaluation system of Sompo Risk Management Inc.
* THE INCLUSION OF Ajinomoto Co., Inc. IN ANY MSCI INDEX, AND THE USE OF MSCI LOGOS, TRADEMARKS, SERVICE MARKS OR INDEX NAMES HEREIN, DO NOT CONSTITUTE A SPONSORSHIP, ENDORSEMENT OR PROMOTION OF Ajinomoto Co., Inc. BY MSCI OR ANY OF ITS AFFILIATES. THE MSCI INDEXES ARE THE EXCLUSIVE PROPERTY OF MSCI. MSCI AND THE MSCI INDEX NAMES AND LOGOS ARE TRADEMARKS OR SERVICE MARKS OF MSCI OR ITS AFFILIATES.