Ajinomoto Co., Inc. to Increase Production of
Flavor Seasoning Ros Dee® in Thailand, the Largest Base of
Its Overseas Consumer Foods Business
Investment of Approximately JPY 2.4 Billion for an Approximately 40% Increase in
Production Capacity
Start of Construction in August 2016, with Operation Scheduled to Begin in
August 2017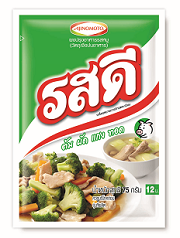 Ros Dee® (Pork Flavor)
TOKYO, August 29, 2016
– Ajinomoto Co., (Thailand) Ltd. ("Ajinomoto Thailand"), a consolidated supsidiary of Ajinomoto Co., Inc. ("Ajinomoto Co.") will meet growing demand for flavor seasonings in Thailand by investing THB 800 million (approximately JPY 2.4 billion) to increase production capacity for flavor seasoning
Ros Dee
®
at its Nong Khae Factory in Saraburi Province, Kingdom of Thailand. Ajinomoto Co. is working to further expand its flavor seasonings business to accelerate business expansion in Thailand, the largest base of the Ajinomoto Group's overseas consumer foods business.
The flavor seasonings market in Thailand has grown by approximately 1.3 times over the past five years to approximately 70,000 tons (Ajinomoto Co. estimate for fiscal 2015) and is expected to grow further in the future as a result of increases in the volume used per household due to more frequent home use and in opportunities for use in the restaurant market, mainly at food stalls, backed by the growth of the middle-income segment.
Ros Dee® was launched in 1979 and is currently sold in four varieties. It is used in stir-fry, soup and other dishes as an all-purpose seasoning that gives a meat flavor. Sales volume has grown by an average of more than 5% annually since fiscal 2011 and the product maintains the top share in Thailand as a result of cultivating the restaurant market in addition to proactive marketing activities and promoting applications in a wide range of home-cooked dishes.
To prepare for the expected growth in demand, Ajinomoto Thailand will expand production facilities at its Nong Khae Factory and improve production efficiency by automating the packaging process to increase production capacity for Ros Dee® by approximately 40%. The company will also ensure that its products are safe and trustworthy by upgrading its equipment to prevent contamination and enhancing traceability for more thoroughgoing quality control.
In its FY2014-2016 Medium-Term Management Plan, the Ajinomoto Group positions Thailand, which is the largest base of the overseas consumer foods business, as one of its "Five Stars" (core countries in ASEAN and Latin America), its major growth drivers. The Ajinomoto Group aims for rapid growth in the consumer foods business in Thailand, with a target of doubling sales by fiscal 2020, compared with fiscal 2012. The Ajinomoto Group will strive for further growth of its international food products business by providing more delicious, higher-quality products to contribute to well-being in each country.
Overview of Capital Investment
(1) Location:
Ajinomoto Thailand Nong Khae Factory (Nong Khae Industrial Estate,
Saraburi Province, Kingdom of Thailand)
(2) Amount of investment:
THB 800 million (approximately JPY 2.4 billion)
Note: THB 1 = JPY 2.99 (rate as of July 31, 2016)
(3) Production capacity:
Approximately 40% increase from current capacity (expansion of building
and production/packaging facilities)
(4) Start of operation:
August 2017 (scheduled)
Reference
■ Overview of Ajinomoto Thailand
(1) Name:
Ajinomoto Co., (Thailand) Ltd.
(2) Location:
Bangkok Province, Kingdom of Thailand
(3) Established:
1960
(4) Representative:
Kaoru Kurashima, President
(5) Number of employees:
Approximately 1,500 (as of July 31, 2016)
(6) Business description:
Manufacture and sale of seasonings, processed foods, feed-use amino acids
and other products
■ About Flavor Seasonings
Flavor seasonings are blends of spices, salt, sugar, umami seasonings and other ingredients with extracts of meat, fish or vegetables. They are used in a wide range of dishes and applications, including soups, stir-fried dishes and pre-seasoning. Brands such as Ros Dee® in Thailand, Masako® in Indonesia and Aji-ngon® in Vietnam are equivalent to HON-DASHI® in Japan, and can be used easily in preparing various home-cooked dishes in each country.
About Ajinomoto Co.
Ajinomoto Co. is a global manufacturer of high-quality seasonings, processed foods, beverages, amino acids, pharmaceuticals and specialty chemicals. For many decades Ajinomoto Co. has contributed to food culture and human health through wide-ranging application of amino acid technologies. Today, the company is becoming increasingly involved with solutions for improved food resources, human health and global sustainability. Founded in 1909 and now operating in 27 countries and regions, Ajinomoto Co. had net sales of JPY 1,185.9 billion (USD 9.87 billion) in fiscal 2015. For more about Ajinomoto Co. (TYO: 2802), visit
www.ajinomoto.com
.
For further information, please contact: