Ajinomoto Co. Begins Operation of a Second Factory for
Birdy
®
Canned Coffee, Thailand's Top Brand
Establishing a Stable Supply Structure to Meet Strong Demand
JPY 4.5 Billion Investment, Full-Scale Operation from July 2013
TOKYO, July 16, 2013
- Ajinomoto Sales (Thailand) Co., Ltd. (AST), a consolidated subsidiary of Ajinomoto Co., Inc. (Ajinomoto Co.), began full-scale operation in July of its second factory for
Birdy
®
canned coffee with an investment of approximately JPY 4.5 billion (THB 1,407 million). This has doubled the current production capacity to 750 million cans per year and will enable AST to meet growing demand from Thai consumers in the future. With an investment in new production facilities in 2008, the factory began integrated production from roasting and extraction to blending and filling, using coffee beans grown in Thailand, and currently works continuously to improve quality
Launched in 1993,
Birdy
®
was Thailand's first canned coffee (iced coffee). Since its launch,
Birdy
®
has created the market for canned coffee as the leading brand, with a market share of 70 percent. As it reaches the 20th anniversary of its launch during the current fiscal year,
Birdy
®
canned coffee is still one of AST's core businesses, and sales continue to grow steadily.
Following its launch,
Birdy
®
canned coffee first gained popularity mainly among male drivers in their thirties and forties as a convenient way of drinking iced coffee that made them feel awake and refreshed but required no preparation. Twenty years later,
Birdy
®
is enjoyed by a broad segment of the populace as Thai consumers have accepted its flavor, which has been tailored to local preferences. Its image as a delicious, high-quality brand for the Thai people is well established, including being named "Most Powerful Brand 2012" by Chulalongkorn University
1
in fiscal 2012.
Note 1. One of the most historic and influential universities in Thailand, established as a national university in 1917.
Beverages account for 10 percent of the approximately JPY 200 billion in sales of the Ajinomoto Group's overseas consumer foods business, and sales are steadily growing. With strengthening and growing the overseas consumer foods business as one of the key principles of the FY2011-2013 Medium-Term Management Plan aimed at making Ajinomoto a genuine global company, the Group is working to further expand this business.
Five Varieties of
Birdy
®
Canned Coffee 20th Anniversary Commemorative Cans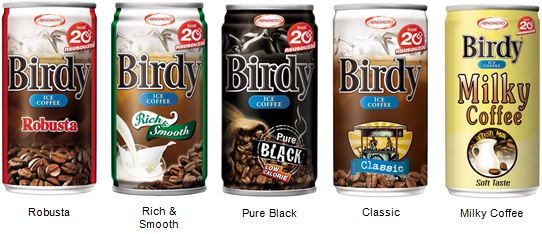 Overview of
Birdy
®
Factory No. 2 of Ajinomoto Sales (Thailand) Co., Ltd.
(1) Location:
Nongkhae Industrial Estate, Saraburi, Thailand
(2) Factory manager:
Hiroyuki Sugae
(3) Start of operation:
July 2013
(4) Details of capital Investment:
Building expansion, production line expansion (increase in production capacity: approx. 12.5 million cases

2

), extension of coffee bean warehouse, blend ingredient warehouse and warehouse for finished products and packaging materials, etc.
Note 2. 1 case = 180ml cans x 30
(5) Total capital investment:
Approx. JPY 4.5 billion (THB 1,407 million)

2

Note 3. THB 1 = JPY 3.16 (as of June 30, 2013)
(6) Number of employees:
Approx. 100
(7) Site area:
Land: 43,120m² Building: 20,300m² (2 stories)
Exterior Views of
Birdy
®
Factory No. 2 of Ajinomoto Sales (Thailand) Co., Ltd.

Overview of Ajinomoto Sales (Thailand) Co., Ltd.
| | |
| --- | --- |
| (1) Location: | Bangkok Province, Thailand |
| (2) Established: | 1974 |
| (3) Representative: | Vichai Chaipinchana, President |
| (4) Number of employees: | Approx. 900 |
| (5) Businesses: | Sale of seasonings, instant noodles, beverages, feed and other products |
| (6) Equity ownership: | Ajinomoto Co., (Thailand) Ltd. 49.0%; Si Ayutthaya Real Estate Co., Ltd. 48.2%; and others |
About Ajinomoto Co.
Ajinomoto Co. is a global manufacturer of high-quality seasonings, processed foods, beverages, amino acids, pharmaceuticals and specialty chemicals. For many decades Ajinomoto Co. has contributed to food culture and human health through wide-ranging application of amino acid technologies. Today, the company is becoming increasingly involved with solutions for improved food resources, human health and global sustainability. Founded in 1909 and now operating in 26 countries, Ajinomoto Co. had net sales of JPY 1,172.4 billion (USD 14.1 billion) in fiscal 2012. For more about Ajinomoto Co., (TYO: 2802), visit www.ajinomoto.com.
For further information, please contact
here
.